Sardes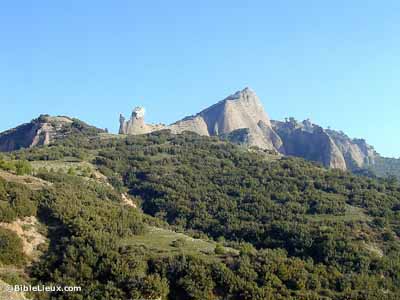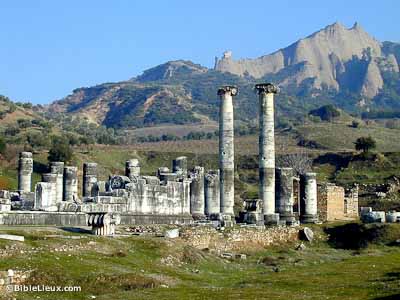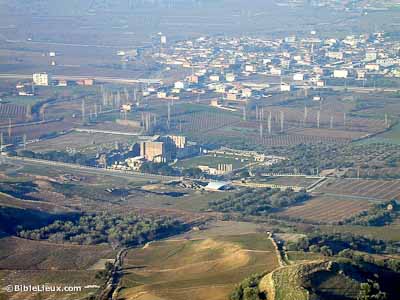 Sardes, Bas de la Ville
"Ecris à l'ange de l'Eglise de Sardes…Je connais tes œuvres. Je sais que tu passes pour être vivant, mais tu es mort. Sois vigilant, et affermis le reste qui est près de mourir; car je n'ai pas trouvé tes œuvres parfaites devant mon Dieu. Rappelle-toi donc comment tu as reçu et entendu la parole, garde-la et repens-toi. Si tu ne veilles pas, je viendrai comme un voleur" (Apo 3:1-3).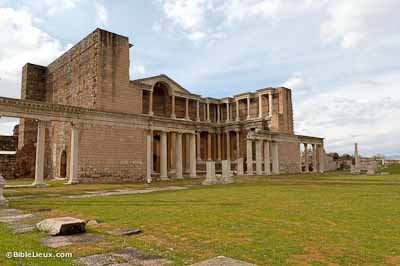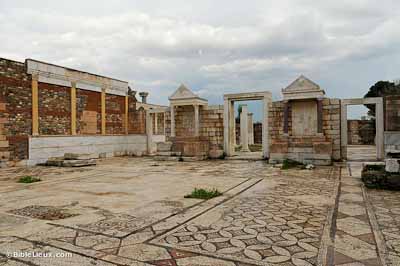 Synagogue
La synagogue de Sardes est notable pour sa taille et son emplacement. De taille, elle est l'une des plus grandes des anciennes synagogues excavées. Elle se trouvait également au centre de la ville, au lieu d'être en périphérie comme les synagogues l'étaient typiquement. Cela atteste la force et la richesse de la communauté Juive de la ville de l'époque. Cette synagogue fut élevée au IIIe siècle.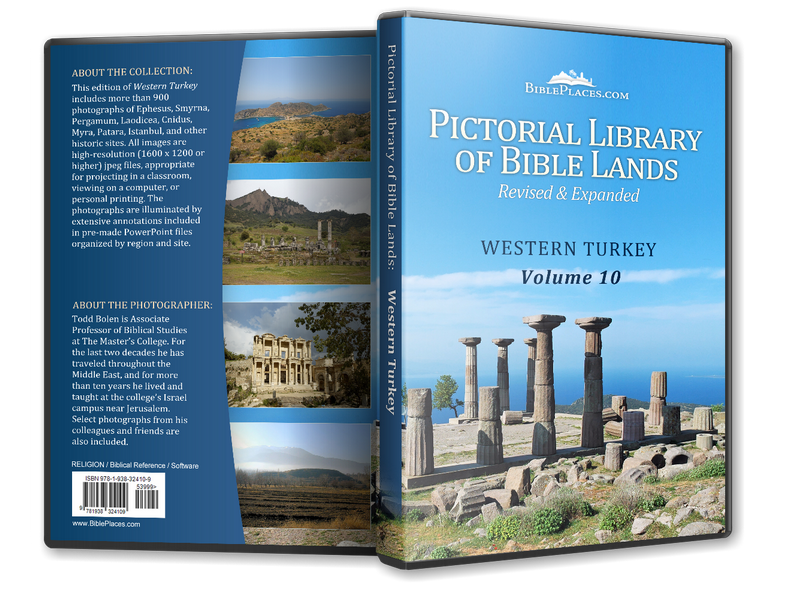 Commander Ces Photos Du DVD
Turquie Occidentale
$ 34.00
$ 49.99
Autres Sites Web
The Archaeological Exploration of Sardis (Harvard University Art Museums)  Gives insight into the excavations taking place from a co-sponsor of the project.  Links offer information on visiting the site, the history of the city, and relevant publications.  Pictures of the excavation are available by clicking on links within the main text.
Sardis (Christian Travel Study Program)  The lengthy and informative text focuses on the historical background of this ancient city.
Sardis (Republic of Turkey, Ministry of Culture)  A brief encyclopedia-type article which discusses the history of the region.
Sardis (Cities of Revelation)  Summarizes the basic facts about Sardis in a user-friendly format.  Features several nice photographs.
Sardis (Focus Multimedia)  Highlights interesting and important facts about the city in a brief, reader-friendly format.
Sardis in History (Harvard Magazine)  Summarizes the history of the city by way of a concise timeline.
Sardes (The Catholic Encyclopedia)  Gives a brief, but rather technical history of the ancient city.  Text only, no pictures.
Jewish Sardis (Turkey) (Turkey Travel Planner)  Written by the author of the original Lonely Planet guide to Turkey, this site offers a practical look at Sardis, with an emphasis on Jewish roots.  He also has a more general description of Sardis.
Pictures of Sardis (ourfatherlutheran.net)  Features pictures of many of the archaeological remains at the site.
Turkey and Seven Churches of Revelation Photo Album (ArcImaging, Rex Weissler)  Photographs from a tour of Turkey highlight important archaeological features of the city.  Scroll to "S" section or click on the appropriate photo tour at the top of the page.
The Search for Sardis (Harvard Magazine)  Tells the story of a professor's fascination with stories of Sardis, which, in time lead to the beginning of the Harvard-Cornell Archaeological Exploration of Sardis.  Reviews highlights of the dig and documents the progress after 40 years of digging.
The Ancient Synagogue at Sardis (The Cultured Traveler)  This lengthy article spotlights the largest synagogue ever excavated.
Greek Inscriptions of the Sardis Synagogue (Sacred Name Movement Errors)  Among other distinctive characteristics of the Synagogue at Sardis, more than eighty inscriptions add to its importance for archaeologists.
King Croesus' Gold (Cornell News)  Reviews the book in which Cornell University archaeologist documents one famous find from the Sardis expedition.